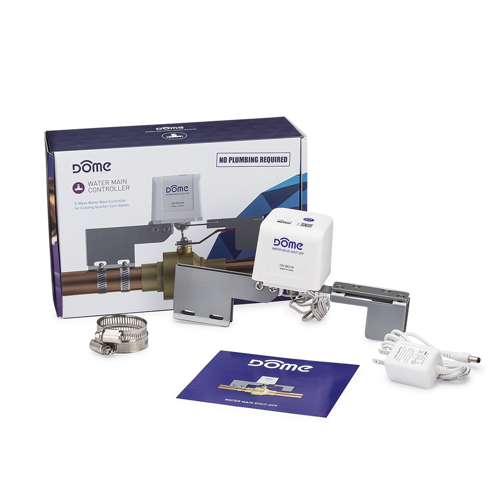 Dome's Water Main Shut-Off Valve Stops Water Leaks Fast
Dome's Water Main Shut-Off Valve Stops Water Leaks Fast
Given my experiences, when I first saw the Water Main Shut-Off and Leak Sensor from Dome (when I interviewed for my position last year,) I fell in love right away, both with the product and the company.  Here's a product that could have saved me thousands of dollars, and it was easy and inexpensive enough for me to use without breaking a sweat.  I actually joined Dome because of this one product (the Water Main Shut-Off,) and today I want to show you why this product left such an impression on me.
Here's How It Works….
The Dome Water Main Shut-Off is a "connected" device that you install directly onto your existing water main. It installs in minutes with only a screwdriver, and with no cutting into pipes.  The Water Main Shut-Off communicates wirelessly with your Z-Wave enabled Home Automation system, like Wink or SmartThings, as do the Leak Sensors scattered throughout your home near plumbing fixtures and other sources of water.
Here's the magic: the moment water touches any one of the Leak Sensors, you will receive a notification on your phone, and if you want it to, your water main will shut off automatically to prevent further damage. Like something out of the Jetsons, your home acts automatically to protect itself from water damage, while also letting you take early action (aka move your stuff upstairs.)
Here's Why It's Important…
Protect Your Belongings:While your insurance company might reimburse you for floors, furniture, and rugs that need to be replaced, you probably have family heirlooms and other belongings that are simply irreplaceable.  I know this personally – the dining table I grew up eating at was destroyed when the whole ceiling collapsed from a leaky toilet.
Protect Your Time::I'd rather go to the DMV than deal with insurance adjusters.  And as much as I hate cleaning up, cleaning up water is at least 34 times as bad – everything is heavier than normal, and everything is also gross and cold.  If you enjoy dealing with that, let me know – we're always hiring.
Protect Your Health:According to theEPA, moisture in your home should be dried within 24-28 hours in order to avoid mold growth. According to common sense, living with mold is smelly and generally unpleasant.  This is because mold releases invisible spores that can cause allergies and even expose you to harmful toxins.
Some Situations We Can Help With…
Sump Pump Failure
Broken Water Heater
Clogged Toilets
Broken Dishwasher Hose
Broken Washing Machine
Leaky Pipes
Overflowing Sink or Tub
Broken Refrigerator Hose
And More!
So before you pass out in the bathtub with the faucet running, do yourself a favor. Grab a Water Main Shut-Off and a few Leak Sensors, and save yourself the headache of dealing with insurance companies, plumbers, and other humans in general. Click to order your shut-off valve today!